Top 11 Twin Infant Survival Items
Preparing for twins is NO JOKE. There are about 1 trillion different baby items to think about. Am I right? When I was putting together my own registry last year, it was nothing short of a migraine. Reviews, reviews, and more reviews! Reading all of that was pretty much the last thing I wanted to do when I was utterly exhausted from growing 2 humans at once. In an effort to help out other twin mamas-to-be, I took a look at everything we've got and made a list of the top 11 items I would recommend to others in order to survive the first 6 months with twins. Here is a SHORT review on each (with prices included) on those 11 items:
1. Baby Jogger 2017 City Select LUX Stroller
This thing is great. It's very lightweight, easy to push, fits through doorways easily, sleek, and our Maxi Cosi Mico 30 infant car seats are compatible (and can be attached to the stroller with an adapter)! I've heard of a LOT of twin moms that like this stroller, as well. Whenever I'm out with the twins and see another set of twin infants, 95% of the time they have this exact same stroller. It's pretty expensive (this will likely be your most expensive item), but it's good quality and a great investment. It was a bit challenging to learn how to put the car seats on it at first, but it's easy once you know how to do it. That being said, make sure you fully know how to use it before you go out in public (so you're not stuck in the parking lot feeling silly like I did ;)...). Overall, I would highly recommend this stroller. Keep reading to find out the pieces you'll need.
Purchasing strollers can get a little confusing. As for the Baby Jogger City Select LUX stroller, this is what we purchased for our twins:
· The regular stroller that comes with only one seat
· A second seat kit (or, you can just buy the double stroller that already comes with both seats as it ends up being the same price)
· Two infant "Maxi Cosi Mico 30" car seats (although you can buy a different brand that's compatible with the Baby Jogger stroller)
· Two adapters to attach the Maxi Cosi car seats to the stroller (not all stores that sell the stroller also sell the adapter, so you might have to go to the Baby Jogger website like we did)
So, you can buy the regular stroller that comes with only one seat and then buy the second seat kit to attach to the stroller OR you buy the double stroller with both already included. The original seats that come with the stroller would be what you would use when your twins get a little older (they should be good for when they're 1-5 years old). At first, you'll want to get infant car seats that are compatible with/can attach onto this stroller and that will be what you'll use from birth until ~1 year old. Message me if you have questions on any of this. :)
Cost:
$629.99 (stroller) + $199.99 (2ND seat kit for twins) + $29.95 9 (per adapter x2) = $889.88
2. Maxi-Cosi Mico 30 Infant Car Seats
These car seats are safe and they serve their purpose well. We liked them because our twins were relatively small when they were born and the car seats came with an extra fabric support for smaller babies. The car seat is light weight, easy to carry, and is compatible with our stroller. The straps fit securely and it's pretty straight forward how to attach the seats to the car seat base. It takes a little bit of time to learn how to tighten or loosen the straps, though. As a HUGE cautionary side note: one thing I REALLY wish I had done when adding car seats to my registry was measuring the backseats in my car first. We got the Maxi Cosi car seats but it turns out they're long and don't fit well in our cars. We have to keep our front seats very far forward just to get them to fit! And it's the same story when we tried it in my husband's car (and we both drive SUVs!). This didn't make for an easy drive for my tall 6'6" husband. So, I recommend taking some measurements first before you buy/add that to your registry. We used these car seats until our kids were ~8 months old.
Cost: $169.99 each. You can purchase them here.
3. 4Moms MamaRoo Infant Seats
You might have seen me talk about these before. They were heaven sent. We used these ALL (and I mean ALL) of the time during the first 3 months. The babies loved to go for a "ride" in their seats as it helped them fall asleep much faster and it calmed them down. There are 5 different motions it makes, each simulating the movements from their oldest memories of being in utero. You can change the motions without even having to get up from the couch through using Bluetooth and downloading the 4moms app on your iPhone. Almost every single adult that saw our babies sleeping in their MamaRoos commented on how we need an adult version! The negative, though, is the price. It will cost you up to $219.99 for a new one (and you'll need to multiply that by 2 for twins!). You can get around that, though, by adding it to your baby registry like we did or buying used/older ones. It holds up to 25 pounds of baby weight. Totally worth the splurge!
Cost: $219.99 each. You can purchase them here.
4. Halo SleepSac Swaddles
When my husband and I got frustrated with the incessant crying when they were newborns, we dangled 5 words over the twins' heads: "You're about to get SleepSac'd!" We said that because it WORKED. When we wanted the babies to calm down and rest, the Sleepsac swaddles did just that. Babies love to be wrapped up tightly. It makes them feel secure and snug as they once did when they were in the womb. The Halo SleepSac swaddle simulates the feeling. You put the baby inside, zip him/her up, and then cross the Velcro straps over the front to make everything nice and cozy. Our babies usually fell asleep within a couple of minutes of being SleepSac'd! We used these until the babies were about 3 months old.
Cost: $29 each. You can purchase them here.
5. Baby Einstein Jumpers/Exersaucers
When our twins were 3 months old, they could hold their heads up pretty well and they were starting to reach out for things. So, that's when we started using exersaucers. And they LOVED IT. Whenever we used to put the twins in this, they were completely mesmerized and smiling. We liked that the height of the device could be adjusted depending on the baby's size, it was easy to assemble, and it was easy to move as its lightweight. It does take up a good amount of space, though, (especially when you have 2 of them) and it requires several AA batteries that don't come with it. Overall, it's a good purchase if you need to preoccupy your babies in a safe learning environment. Our twins used their jumpers until they were ~9 months old.
Cost: $109.99 each. You can purchase them here.
6. Baby Einstein Play Gym
We used this play gym almost every day the first 4 months. Both babies were usually pretty fascinated by the flashing lights, music, and mirror. I definitely saw them learning when they were on this mat. I used to put both babies down on the mat together a few times a day (no need to buy more than one as both can fit). We also did tummy time in this gym sometimes because it gave them reasons to want to turn their heads and look. One of my favorite features is that the music player and flashing light are baby-motion activated (and if there's no motion then it only plays for 20 minutes).
Cost: $38 each. You can purchase one here.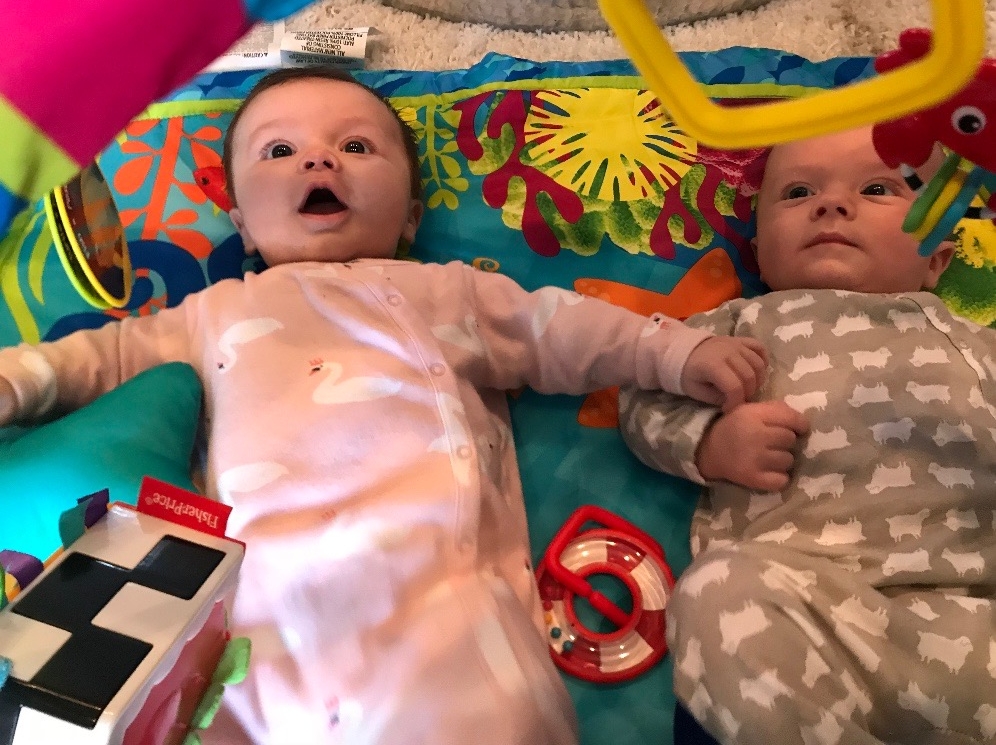 7. Boppy Newborn Lounger Pillows
I'm not kidding when I say I feel like we've used these for everything. We use them for naps, feeding, playing, reading time, etc. The babies have been using these since their first day home from the hospital until 6 months. It's a very soft cushion and the design is conducive to supporting the babies' heads during rest in the beginning. Our babies probably spend most of their time in the boppy lounger in between feeds when they are napping. I don't leave them unattended in these, though, as they could tumble over if propped incorrectly. If the twins' spit up in the lounger, it's super easy to throw in the washing machine and it dries quickly. The huge plus is the price!
Cost: $29.99 each. You can purchase them here.
8. Boppy Nursing Pillow and Positioner
We actually didn't use this much until the babies were about 3 months old (but I wish I had!). It can be used for breastfeeding, bottle feeding, propping, tummy time, and sitting. In the beginning, we used it mainly for tummy time sessions each day and more recently we used them to help them sit up. It has one soft/cozy side (for laying) and when you flip it over it has a non-absorbent side (for feeding). It's easy to clean and machine-washable.
Cost: $49.99 each. You can purchase them here.
9. Bumbo Floor Seats
We started using the Bumbo Floor Seats when the twins turned 3 months, as soon as they had decent head control. These seats are made for 3-5 months of age. It helps encourage posture, provides them with a better visualization of their surroundings, and it includes a safety belt to prevent falling accidents. I particularly liked the Bumbo seats for my son because he had reflux and this chair helped him sit upright after he ate. Plus, it gave them another option or place to sit to prevent them from getting any flat areas to their heads. The twins didn't mind sitting in them, and often got so comfortable that they fell asleep in them. There are even cute covers on Etsy you can buy to put on these Bumbo seats for extra cushion! My main caution would be to only purchase this if your babies don't have super chunky legs. Our kids had some rolls on their thighs when they were 3 months old, but they were able to use them until they were ~5 months old.
Cost: $39.99 each. You can purchase them here.
10. Dr. Brown's Bottle Warmers
We purchased 2 of these for our twins. When you've got two screaming babies that just want to eat, you can cut down the wait time by half when you have TWO Dr. Brown bottle warmers! It's more convenient to only wait 4 minutes to heat them instead of 8 minutes. That's what we did at least. It comes with a little booklet that tells you how long to heat the bottle depending on how many ounces are in it. The warmer is very straight forward and easy to use. You just have to make sure to regularly refill the water dispenser that is used for the heating (sometimes I forgot to do this and I stood there for 4 minutes while I thought it was heating but actually it wasn't). The warmer fits wide neck bottles which I found helpful considering our son had a laundry list of bottles he used (some wide, some thin). If you don't like mixing formula on your own, you could go with the Baby Brezza (that mixes and heats it for you). However, that's significantly more expensive and both babies would need to be on the same formula (our twins were on different formulas for a bit so that didn't work for us). That said, this is the more affordable option and doesn't lock you into keeping your twins on the same formula.
Cost: $42.99 each. You can purchase them here.
11. Graco Blossom DLX 6-in-1 High Chair
Ever since the twins turned 4 months old, we've been putting them in these high chairs to feed them solids. One of the greatest parts about the Graco Blossom DLX 6-in-1 is that there are 6 seating configurations that get you from infant to toddler (infant high chair, traditional high chair, infant booster, toddler booster, and youth chair). Even more, the 6th configuration can be used by disconnecting it into two pieces that can seat two children at once (should your family grow). Basically, it a one-stop shop. It has a secure 3- and 5-point harness, a reclining feature, and cushioned infant seating for comfort. Highly recommend.
Cost: $199.99 each. You can purchase them here.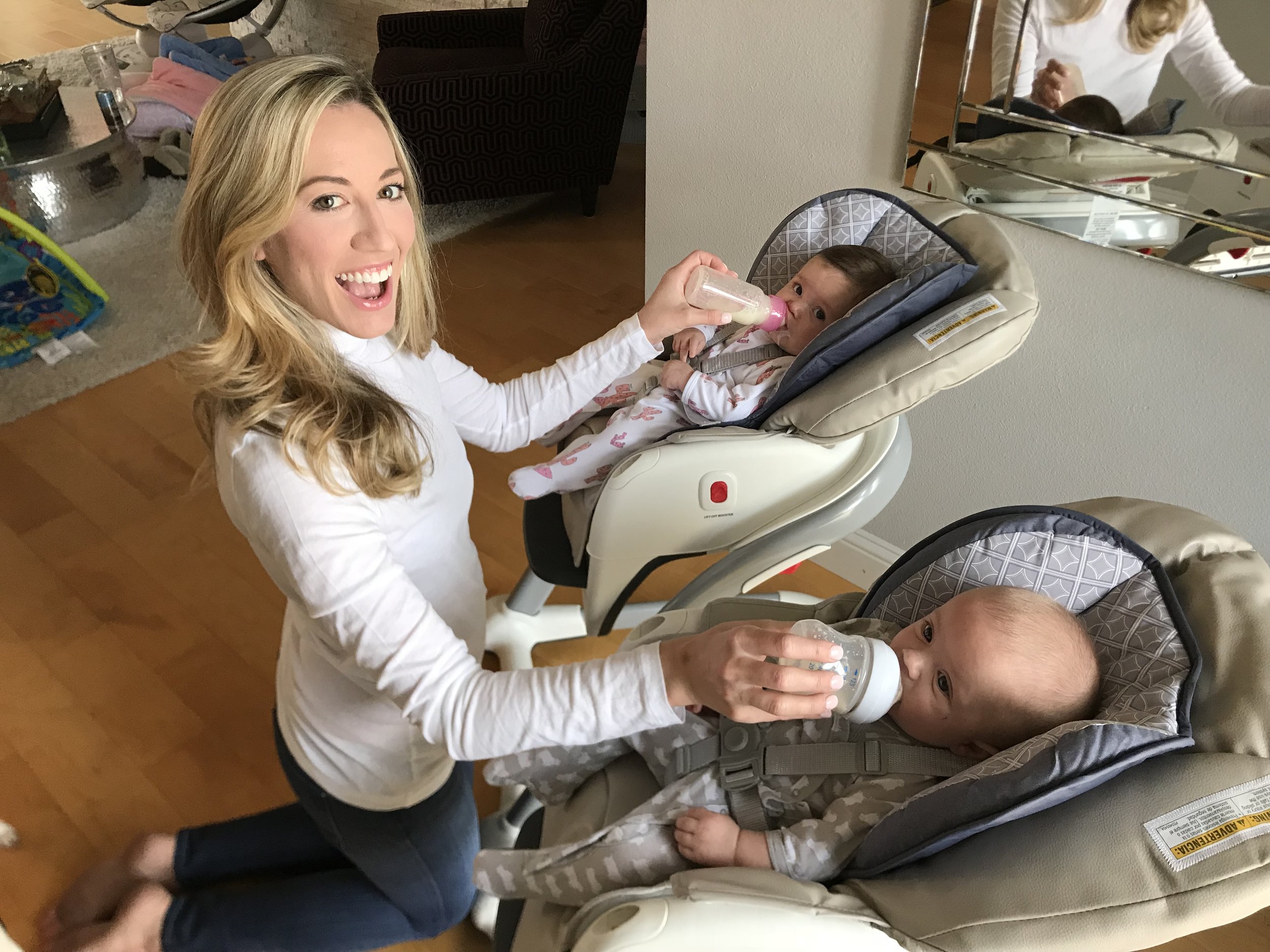 If anyone has any other questions about these products that I didn't answer then just leave a comment or send me an email and I will try to help in any way I can!