What I Learned From My 28-Hour Road Trip with Twin Infants
Stuck in a car with twin infants for 28 hours? Most people might think that's what nightmares are made of… But, it doesn't have to be THAT awful!
Recently, my husband and I took our nearly 8-month-old twins on their very first family vacation. Each summer, my family and I spend time at our family beach house near Destin, Florida. Now that we have kids, we wanted to carry on that tradition! We wanted to test the waters with driving first instead of flying with them. So, we drove from Dallas to Destin, stayed at my parents' beach house for a week, and then drove back --which turned into ~14 hours each way. While the long-distance drive wasn't fun, we did what we could to make it bearable through some planning coupled with trial and error. The return trip home was definitely less painful, as we had learned a few things along the way during the first driving stretch. Since there are so many people that have summer road trips coming up with their little ones, I wanted to share some details of how we survived such a long, looooooong drive.
Packing the Twins
The first thing I learned about surviving a road trip like this is to make sure you've packed well. Luckily, my mother did some shopping ahead of time and had some items waiting at the beach house for us (extra formula, baby solids, diapers, bouncy chairs, Pack-N-Play, baby clothes, toys, etc.), which cut down some of the overpacking. All that said, to conserve space, I packed just enough baby food, toys, and diaper items to get us through the drive.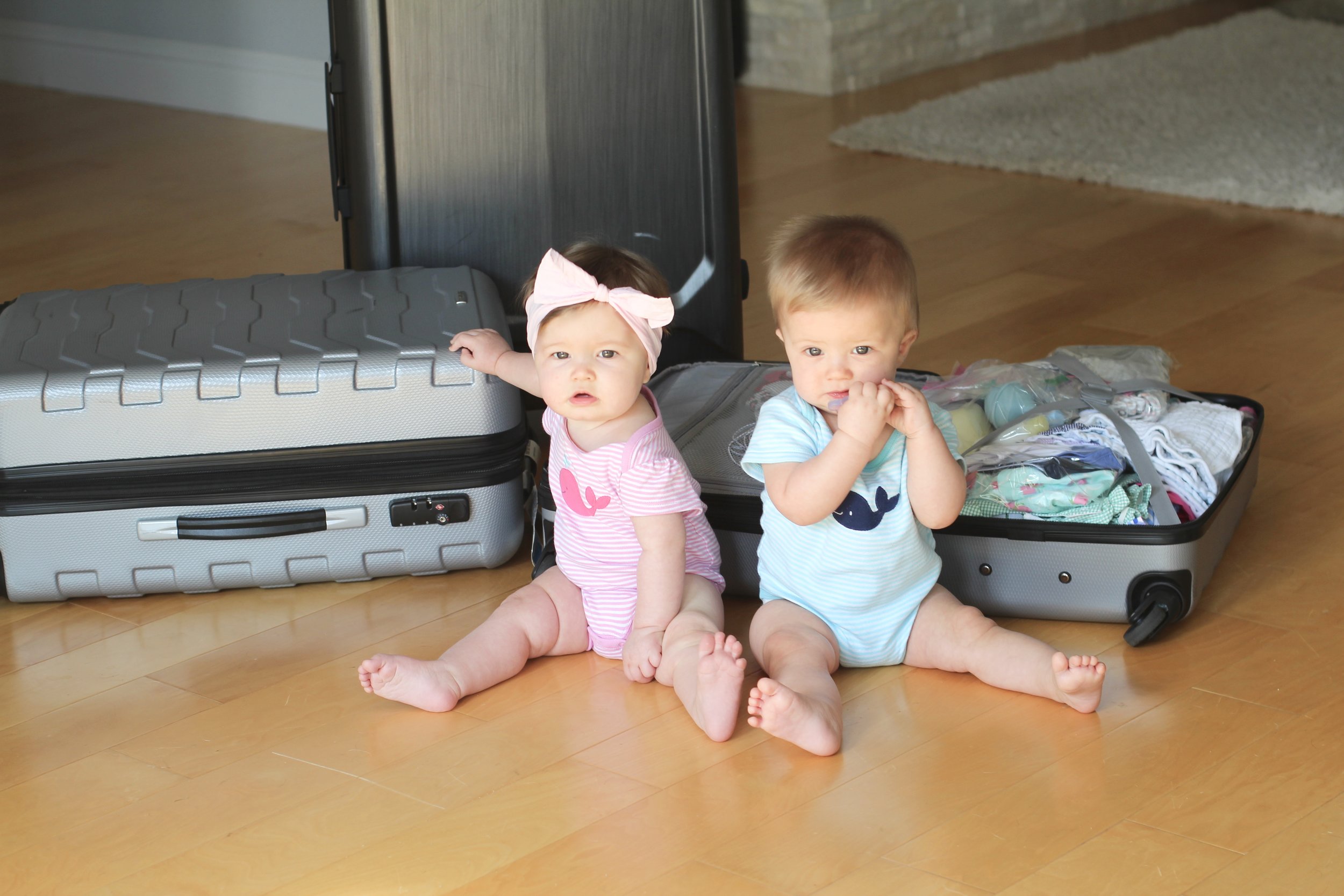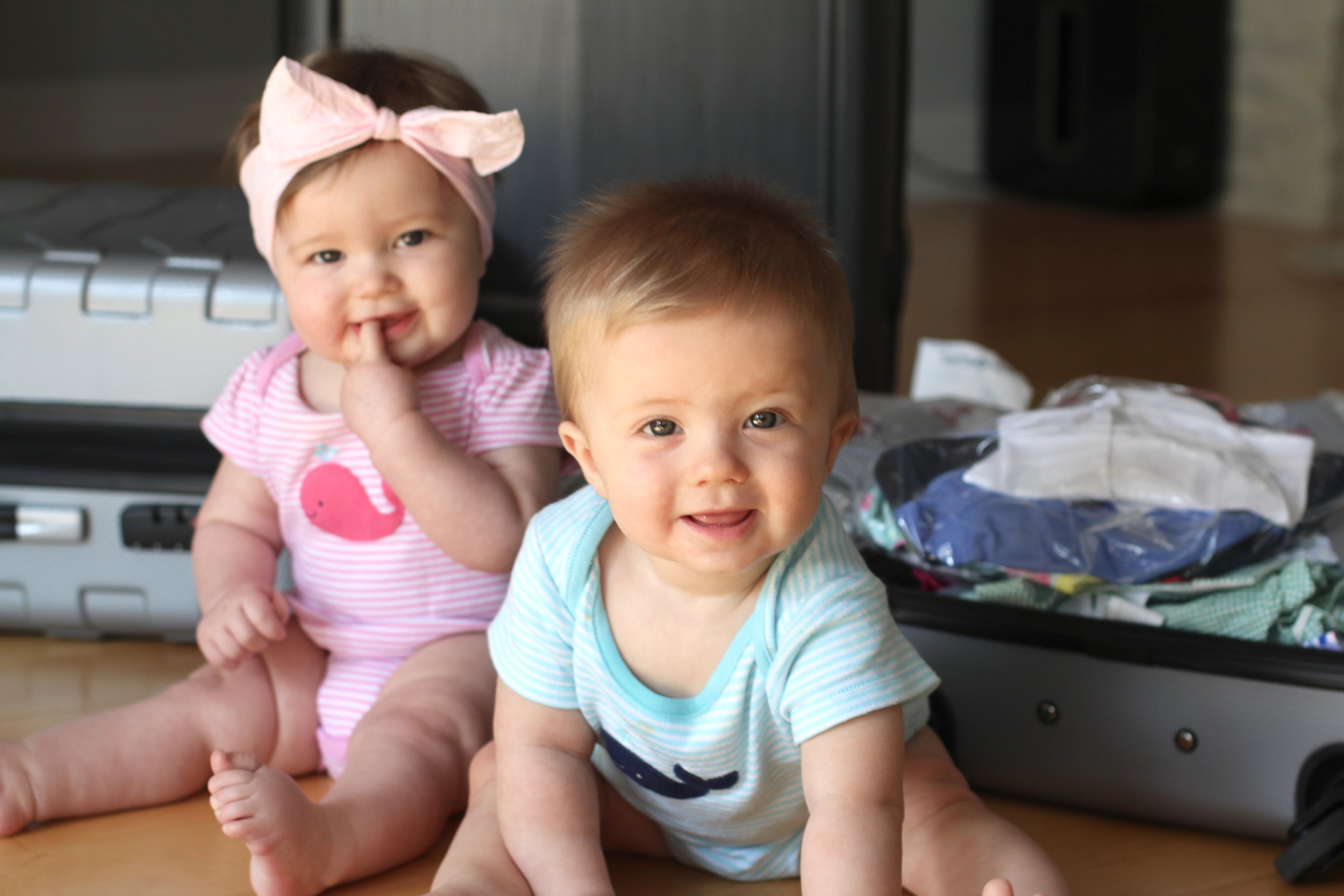 The most important thing we planned ahead for? Car seats. Two weeks before our trip, we realized it was time to switch from infant car seats to convertible car seats. The twins had simply become too heavy and too tall for their Maxi Cosi Mico 30 infant car seats. That said, we did some research to find a safe, affordable, and COMFORTABLE convertible car seat and ended up purchasing two Britax Emblems. If we were driving for that long, we didn't want them to be crunched up and miserable. So the big purchase was worth it.
I function off of checklists, and this vacation was no exception. I highly recommend doing the same. Here are the items that were on my twin checklist for 1 week at the beach:
2 convertible car seats

1 stroller

Diapers, just enough for car ride

Diaper wipes, just enough for car ride

Hand sanitizer to clean my hands (esp after diaper changes)

Wet wipes for them to clean their hands and for spit ups

1 container of Clorox wipes (to clean hotel crib and dirty surfaces)

Travel-sized dishwasher soap to wash bottles at hotel

1 can of formula (the rest was already at the beach house)

12 baby bottles (6 for each)

8 water bottles to make bottles as needed

Small cooler for pre-made bottles

4 jars of solids for emergency snacks (the rest was already at beach house)

4 baby spoons

4 burp cloths (re-washed as needed at beach house)

8 bibs

1 Pack-N-Play (see Hotel/sleep section below)

2 crib sheets (re-washed as needed at beach house)

2 Boppy Newborn Loungers

2 baby blankets

1 sound machine

6 pacifiers in a plastic baggy

2 pacifier clips

Diaper bag

Diaper rash cream, just in case

Baby Tylenol, just in case, especially due to teething

2 teething rings

Bulb suction, just in case

1 jar of Vaseline (sand can cause rashes)

2 tubes of baby sunscreen

6 wide-brimmed baby hats (3 for each)

7 dressy and casual outfits for each baby

7 pajamas for each baby

4 simple onesies per baby for car rides (to keep them cool)

2 swimsuits per baby

1 trash bag for dirty clothes

Baby soap and lotion

1 baby comb

4 baby washrags

5 hair bows

2 pairs of shoes for each

Baby entertainment/toys (see section below)
I packed their items into 1 suitcase, 1 duffel bag, 1 diaper bag, 1 diaper box and 1 small cooler. Yes, it was a lot. Their pajamas were rolled up into large freezer bags, one bag for each twin. I put their bibs in a third freezer bag and all of their swimsuits into a fourth. This separation into clear bags made it easier to organize. I used the top/zippered compartment of the suitcase for my son's clothes and the bottom compartment for my daughter's items.
Additional things to consider bringing to the beach that my parents had at our beach house:
Inflatable kiddie pool (to bring to the beach and put water in if you don't want the twins to get all sandy and dirty every day you're there)

Baby bath tub (to bathe them if you still use those AND/OR to fill with water and bring to the beach for the same reason above!)
Packing the Car
The next thing we learned was how to win the most intense game of Tetris (aka jamming everything into the car). In all reality, my husband was the mastermind behind it! We drove my mother-in-law's SUV, as it had more space in the back seat than our own SUVs. Since our new convertible car seats are fairly large, extra space became even more important.
In the trunk, we put the stroller and heavy luggage on bottom, and the Pack-N-Play and an old Pampers box filled with extra bottles and formula on top. We kept the diaper bag with burp cloths, wet wipes, extra pacifiers, etc. in the front passenger floorboard where I was sitting for easy access. Behind the front passenger seat, we kept a little cooler with 6 pre-made bottles (3 for each kid) and a snack bag. Behind the driver's seat, we stored our 2 Boppys (you'll find out later what we used these for) and toys.
Since we stayed in a hotel overnight each way, my husband essentially unloaded the car both times (basically everything except the stroller and some toys) and put everything in the hotel room. First of all, we didn't want any car break-ins potentially resulting in the babies not having items they needed. And secondly, we actually needed almost everything. We used the hotel's luggage cart to load and reload.
Route + Pit Stops
We drove different routes each way to figure out which way was best when traveling with kids.
First, when driving from Dallas to Destin, we took the northern route of I-20 E and stayed at the halfway point of Jackson, MS. On the way home, from Destin to Dallas, we took the southern route on I-20 W and stayed overnight (roughly) halfway in Lafayette, LA. After driving both ways, we decided the southern route was the better choice, as it was slightly quicker and had less construction/traffic (despite what Google Maps predicted below).
Essentially, we were only driving in 6-7-hour increments. While it took 2 days to get to our destination, it was definitely the way to go considering there were 2 infants involved. In the past, (before kids) I usually did the drive ~12 hours straight in one day. For the comfort and happiness of the babies, we felt spending the night halfway was best. Looking back, this choice saved our sanity for sure.
As for pit stops, we usually only stopped ~3 times per 6-7-hour stretch. For example, when we were driving from Dallas to Jackson in our first half of the drive to FL, we stopped twice at gas stations to tank up and change diapers and once at Subway to eat lunch and change diapers again. Each time we stopped, we swapped the babies into the other car seat. In our minds, this gave them something new to look at each time. While pit stops added time to our drive, feeding the babies while my husband drove shaved off some of that time.
Each time we departed for the day, we typically gave them their 7AM bottles and then left around 8:30AM, when their first nap was due. We preferred traveling during the daylight to avoid potentially unsafe pit stops in the dark.
Feeding the Babies
We dreaded this part. Whoever wasn't driving was the "lucky" one that had to do it (usually me – which was "fun" because I tend to get car sick in the back). I would crawl to the backseat between the twins' car seats and feed them simultaneously. Since we kept the bottles pre-made in a cooler, I was able to grab those out about 25-30 minutes before their feed was due to let them get a little warm. Since we were wanting to drive during feeds, it would have been challenging to mix the bottles as we went. We were glad we had them already ready to feed.
The babies did fairly well during each feed. Most bottles were either finished or nearly finished. The thing I was most afraid of was not being able to burp the babies since they were strapped in. Luckily, both tolerating skipping their burps well. No big spit-ups or anything.
We also ended up skipping solids during this road trip. Usually, we feed them baby foods 2-3 times each day. Since they are typically messier eaters with solids, we just didn't offer it in the car. They didn't seem to mind.
Diaper Changes
Efficiency was our priority. We could have stopped at restaurants to take the twins into the bathroom for diaper changes, but that would have been time-consuming with lines and such. Instead, we expedited the process by doing it all in the car during our pit stops. Remember those Boppy Newborn Loungers I said we packed? We took a Boppy and temporarily placed it in the front passenger seat and changed their diapers in it. It was comfortable for them and allowed them to lay down since all they had been doing was sitting up. Since I kept the diaper bag right there at my feet, I had everything I needed nearby. This system worked great! We of course didn't want to change their diapers when the car was moving because that would be unsafe as it would require taking them out of their car seats.
Baby Entertainment
We stored LOTS of different toys in the backseat floorboard for them. We realized very quickly that it was imperative to always make sure each baby had several toys in hand or nearby. There's nothing worse than a crying, bored baby and insufficient distractions within reach. They played with colorful rings, toys that light up, books, dolls, etc.
A few items I would highly recommend for others to bring to keep babies busy in the car:
1. iPads with baby shows downloaded
Netflix has some educational baby shows (i.e. Little Baby Bum) that you can check out; typically, I don't promote TV-watching for babies but with this long of a car ride it was very helpful! It quickly calmed any crying babies. :)
2. Taf Toys Infant Kick and Play Musical Travel Activity Center (pictured below)
We installed these to hang over the back seats. The kids would kick them and they would play music. You can keep your twins happy and purchase them on Amazon for $34.99 here.
3. Lulyboo Auto Protector for iPad (pictured below)
Unfortunately, I didn't know about these until it was too late to use them on our road trip. We plan to use these during our next road trip, though! It hangs on the back seat, provides extra storage, and keeps iPads in place/safe for baby to watch!!! Amazing idea. You can purchase them from Target for $29.99 here.
Naps
Shockingly, the babies slept just fine in their car seats and fell asleep on their own around their normal nap times. There may have been 1 or 2 naps that someone skipped, and we later paid for, but there wasn't much we could do about it since we were in the car. We didn't have to do anything special for naps. We even kept our music on and they slept fine.
Hotel
What I learned was most hotels provide 1 crib with no extra charge. This is why we only packed 1 Pack-N-Play, as we used the hotel's crib for the other twin. I called both hotels in advance to verify they would have cribs waiting for us in the room. I brought my own crib sheets and Clorox-wipes (sorry, but the pediatric nurse practitioner in me couldn't resist) to clean the hotel's crib before using it. The twins slept surprisingly well at the hotels, just like they would have at home.
Based on the recommendation of a friend with kids, we stayed at the Jackson Marriott hotel for $99 on the way to FL. Since we drove a different route going home, we stayed at the Staybridge Suites in Lafayette, LA. Looking back, I preferred the latter. Not only was the route faster, but we liked the hotel better. Having a suite with a full kitchen and a living room was the way to go! It made storing bottles in the refrigerator and washing bottles in the kitchen sink a breeze. Plus, there was plenty of room for 2 cribs. The added bonus was that I booked that hotel on Priceline Express Deals for only $59 (instead of the normal price of $129). That included a spacious suite, crib, free internet, free breakfast, and it was a safe family-friendly building. Umm amazing?
Overall, we were glad we slept overnight in a hotel halfway. Not only did it make things better for the kids, but it also made it easier on us as the drivers/caregivers. There was no way we could have driven the whole way through the night like we had in previous years before kids. I think 7 hours was our maximum tolerance level each day. For now, this system works best for us.
In the end, the important part was that we got there and made some great family memories. Also coming up…. in a few weeks, we are vacationing in La Jolla, California! It will be the twins' FIRST FLIGHT (yikes). Stay tuned to hear what we learn from our next travel adventure! :)